In Part 1 of the story I explained how Rostek had developed from an importing/trading company to exporting permanently installed access systems, and how we survived the worst recession in western Europe and appointed the key personnel for the next 20 years. Read the first part of the story here.
ROOF CARS: WHO STARTED THEM AND WHERE ARE THEY NOW?
In 1953 Mannesmann Anlagenbau in Germany manufactured their first roof car ("horse on the roof"). Later that Company became Mannesmann Leichtbau and in 1999 it was renamed Manntech. In 2008 Manntech was acquired by Erich Dinkler. A sister company for smaller standard machines was also established in the Netherlands in 1999.
Was Manntech first? Maybe…
In Finland, the first "skyscraper", the Headquarters of Fortum (less than 100 meters high) is home to a big clumsy roof car from the early 1970´s. The machine is said to have been made by "Alimak or some other Swede".
A family enterprise, AESA in Barcelona, Spain was an important player in the 1990s. Our new distributor IPF in Germany was selling AESA, as were Aerial Work Platforms in Holland, Pentagonal in Portugal and many others. I cannot comment on how good those machines were, but the prices were very competitive and as a secondary result, Rostek´s sales of smaller access equipment grew well alongside AESA in those countries.
Gomyl was another but less known Spanish Company.
Jan Grothe, who had been working with AESA for some time after he left Tractel, started a new Company 'Katsuyama' in Spain, backed by the Japanese. Many AESA Dealers switched to them but found that results were not as good.
Gradually, some distributors switched to Gomyl and the Company began to win market shares.
Martin Wunder was also very well known. I believe Martin started with Wahlefeld, then he joined MHE-Demag, Gomyl and CoxGomyl and now he is a very successful Partner at Global BMU in New York (a Rostek Dealer of course 😊).
Another famous German, Hans Vollath, worked with Martin in most of these companies and also with Power Machines and E.W. Cox in Dubai. Hans is the father of many inventions in the BMU business and is now retired in the Philippines, building a catamaran sailing boat.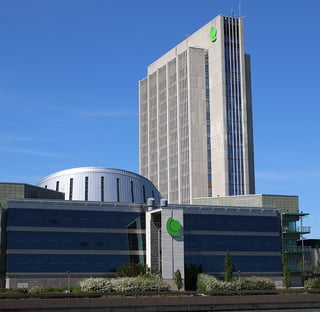 First Skyscraper (Fortum HQ) in Finland. The new podium area has Rostek monorails
MANNTECH AND OTTE FROM GERMANY
Manntech became a very successful Access Company. Their innovative approach and their quality were always regarded as very good and their ability to succeed in challenging projects all around the World has always been excellent. It is no wonder the Company has become one of the leading players in the BMU industry.
Manntech has made many important innovations, including having a control cable inside the steel wire rope and the "soft rope system" for inclined facades.
Otte Aufzugstechnik is a family enterprise, formed in the 1980s. Manfred Otte has been the second-generation owner for the last 15 years. Otte is known for excellent quality and a somewhat careful and conservative policy, resulting in good products and reasonable profitability, albeit smaller growth than some other companies. Having said that, Otte has in recent years produced some very innovative machines and solutions, and their new factory in Spenge is very modern. Otte is the Roof Car supplier for our daughter company Rostek-UK in Sheffield, England.
TRACTEL/SECALT: VERY BIG MULTI-PURPOSE TOOL
For decades, Tractel, the big company from Luxemburg, has been a leading supplier of winches, hoists and platforms. Their Secalt-division (now changing its name back to Tractel) has been our competitor since the mid-1990s when it started manufacturing aluminium monorails. Their traction hoist 'Tirak' is possibly the most copied hoist in the World. Tractel is very big and "beautiful", known all around the World, but in our league they are playing on an even level with us.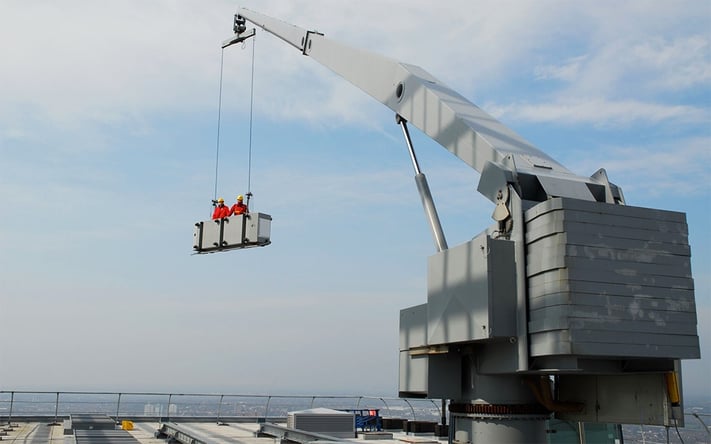 Big Otte Roof Car installed by Rostek-UK
POWER CLIMBER, PLUMETTAZ AND ALL THE OTHERS
Sky Climber in the USA was one of the pioneers of traction hoists. In the early 1980s they began operating in Belgium. Germain Vanhulle, Andre de Meirichy and Jeff van Eyndt were among the first employees at Sky Climber Belgium.
Marvin May of Power Climber, another American company, considered Sky Climber's traction hoist "too bulky". They wanted something more compact. They began operating in Belgium around 1984, with Germain, Jeff and Andre joining them. It was a big investment, aiming at making a totally new kind of traction hoist. Production of the famous 'Astro' started.
Over 30 years later, Germain and Andre have now retired and Jeff is the General Manager. Power Climber has become a very popular provider of service lifts for wind turbines.
Dual Lift is a German company that started to produce "Tirak-influenced" traction hoists some ten years ago and they achieved a good market position. Power Climber bought them two years ago and became a big name in traction hoists. Now, Power Climber take care of small hoists, whereas the Dual Lift factory is responsible for the bigger machines.
Plumettaz in Switzerland produced the special Quadrant gear boxes for the Astros and also produced drum winches for various roof car manufacturers.
Unfortunately the Founder, a truly fine Gentleman named Gerard Plumettaz, tragically drowned a few years ago at the age of 70 whilst sailing at Lake Geneva. Strangely, our own Luna Sailing Team was sailing in the World Cup in the same waters only a month after Gerard was found 100 meters deep in the Lake. Gerard´s Brother Denis is now in charge of Plumettaz SA.
In around 2008 Plumettaz started a small BMU-Company called PL-Access, however they only lasted a few years. One of the reasons for this was a very challenging project 'Gardens by The Bay' in Singapore. MHE-Demag, the Dealers for both Rostek and Plumettaz wanted to undertake this project with Plumettaz as they regarded it "one number too big" for Rostek. Maybe we were lucky to not be chosen for this extremely difficult project.
After PL-Access´ bankruptcy, Gerard Plumettaz took care of fixing everything, even though he had almost no legal obligation to do so. I told you he was a fine Gentleman!
In partnership with Plumettaz, the Küpfer Brothers wanted to make the finest roof cars in the 1990s, but that Company also went out of business some 10 years ago.
Another Belgian company, Skyman, has been producing roof cars and similar products to Power Climber for many years.
FALLPROTEC: SAFETY LINES AND BMU SYSTEMS
After his career with the Spanish roof car manufacturers, Jan Grothe joined forces with Francis Timmermans - previously the Technical Director at Tractel/Secalt. They became quite successful with various fall protection systems and later they began producing monorails, Bosun´s Chairs and even cradles.
Jan occasionally sells roof cars "produced somewhere in Spain" in the name of FBA Gomyl.
FIRST BIG MERGER: COXGOMYL
E.W.Cox in Melbourne, Australia was a very old company, owned by Hartmut Hoffmann.
E.W.Cox was famous for their innovative roof cars and they were taking on the most demanding and "crazy" projects. In reality, the Company was not very big and had a relatively modest factory. Cox really started to grow when Venture Capitalist Wolsey Private Equity acquired it around 2007, and Mark Casey became the CEO.
Some years later, Tony Combe became CEO and Mark became "Sales Chief No. 1".
E.W. Cox then bought Gomyl and the group name CoxGomyl emerged. They developed a successful combination of producing "normal" roof cars in Spain, and more exotic machines in Australia. Later they moved all their production efforts to Spain and currently have the biggest and finest factory in the industry.
They also bought out Cradle Runways in the UK and then the new CoxGomyl Group was ready. The General Manager of CoxGomyl UK Tony Long retired, but was called back to CoxGomyl Middle East a couple of years later.
The expansion of CoxGomyl was beneficial for Rostek. E.W.Cox in Hong Kong had been our Dealer for a long time and we worked occasionally with other Cox companies. Now we found a good synergy with CoxGomyl for business in many countries around the World.
The Abu Dhabi Airport project, including more than 11 kilometres of monorails, 54 Climbing Roslift trolleys and 27 BMU-cradles from Rostek was the biggest order so far for both Rostek and CoxGomyl. Now we are aiming at even bigger projects!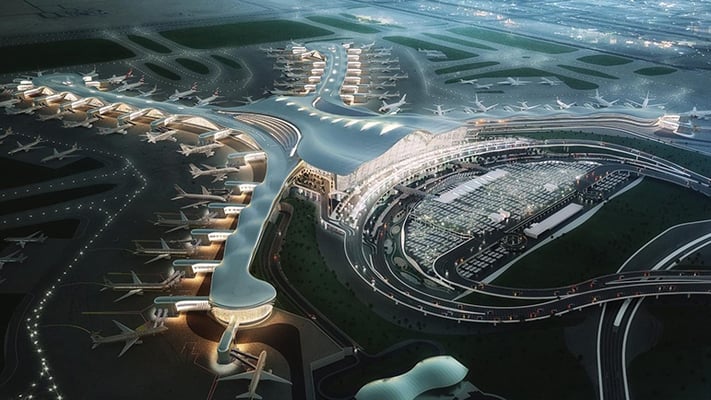 Biggest Rostek project so far, Abu Dhabi Airport
ROSTEK UK IN 2010
Rostek was doing well in the UK and our market share was increasing. Our dealer, The Access Group, was a modern marketing- and sales-oriented company and considered one of the best Rostek Dealers.
Unfortunately, The Access Group lost a lot of money with special projects in the Wind Industry and went into receivership at the end of 2009.
Very soon thereafter, we decided to start our own company, Rostek-UK, not only to continue with the valued orders in hand, but to continue our growth and expansion. Dave Uttley, formerly Finance Manager at The Access Group became CEO for Rostek-UK, alongside another Director, John Hepworth.
However, things did not go quite as planned. Although growth seemed to be good, the costs - especially due to high staff numbers - started climbing steeply and Rostek Oy was required to loan a lot of money to Rostek-UK to cover the losses.
John Hepworth, and soon thereafter Dave Uttley, resigned and John Earnshaw who was previously Project Manager/Sales Manager at The Access Group was nominated CEO.
Today, Rostek-UK has an excellent team of 15 professionals and is doing well, making a good profit and having a superb reputation in the UK market.
STANDARDS AND COMMITTEES
There was great demand for a new all-European Standard covering suspended access equipment, and in 1996 I was invited to become a member of the EN1808 Standard Committee for this purpose.
The Committee included safety representatives from Sweden, Holland and Germany and many leading producers of suspended access equipment: Tractel, Manntech, Plumettaz, Power Climber, Rostek, Altrex, AESA, Zarges, Alba, Küpfer and so on.
I enjoyed the work but the atmosphere was not always positive, with so many commercial fights between various producers. Everybody wanted to defend their own product ideas and make the lives of their competitors difficult.
There were many "friendly fights" about monorails versus roof cars. I once suggested to Joe Küpfer that monorails could be forbidden over heights of 100 metres and that roof cars should be forbidden below heights of 100 metres. He did not agree… Since then, we have made monorail applications to lifting heights of 200 metres.
We completed the Standard in 1999 and it made many things clear. We also believe we were able to improve the quality and safety of our machines, without making them too complicated and expensive.
Ten years later the Committee convened again and an updated version was, after some regrettable delays, harmonized in 2016.
Work during the second round was more professional but also more relaxed and fun, although we were missing all the Spanish producers and some others. Luckily we had new, very professional and active Members from Germany: Manfred Otte and Klaus Fischer.
We all remember the good meetings and the enjoyable parties, and some of us even remember "one of us" sleeping in that big chair in Barcelona during a meeting…
France did not really take part in the process during those years, and it was a great disappointment when they started to "ask difficult questions" when everything was already 99% ready!
Nevertheless, we had to admit that the French had a point: the brand-new Standard had some unclear details – mistakes, even - and the requirement for establishing two separate Standards, one for BMUs and one for TSPs became stronger again. That was a little embarrassing…
Following a lengthy voting process in Europe, the Standard is now going to be split into two parts (BMU+TSP). Germany, Finland, the Netherlands and Belgium voted against the split but all others voted in favour.
The Committee will assemble again in April 2018. I wonder if this will be another 5-year process? What about me? I was supposed to retire…
My German colleagues also invited me to the German Committee ABA = Arbeitskreis BefahrAnlagen where most German producers and two foreign companies (Rostek and Tractel) are represented. This opportunity gave me an excellent insight into the Industry and interpretations of various Standards and safety matters. Plus, it was an opportunity for networking and socialising of course!
SECOND GENERATION CHANGE: MIKAEL ANTHONI BECOMES CEO OF ROSTEK AND SUVI RETIRES
In 2011, when my 60th birthday was approaching, Harri and I started to think about finding a new, younger CEO for the Company. This person would need to lead the Rostek Group to a new level of business and anyway, the 'old bosses' would need to step down at some point.
Mikael Anthoni (49) was soon appointed and he began working with us in early 2012. He had a Master of Science degree and a good management background from the famous crane companies Hiab and Cargotec. Getting Rostek UK back on the right track was one of his most important responsibilities, and he introduced several improvements into our organisation and systems.
Unfortunately everything did not go quite as planned and in late 2015 we made the decision to let Mikael go. I did not want to become CEO again, therefore Harri agreed to take on this role on a part-time basis as he was still very active with his own company Avaus Consulting.
After 19 hard-working years at Rostek, Suvi had been thinking about retirement and a new Finance Manager, Nina Hietamies, was appointed. In early 2015, Suvi left Rostek to concentrate more on our grandchildren.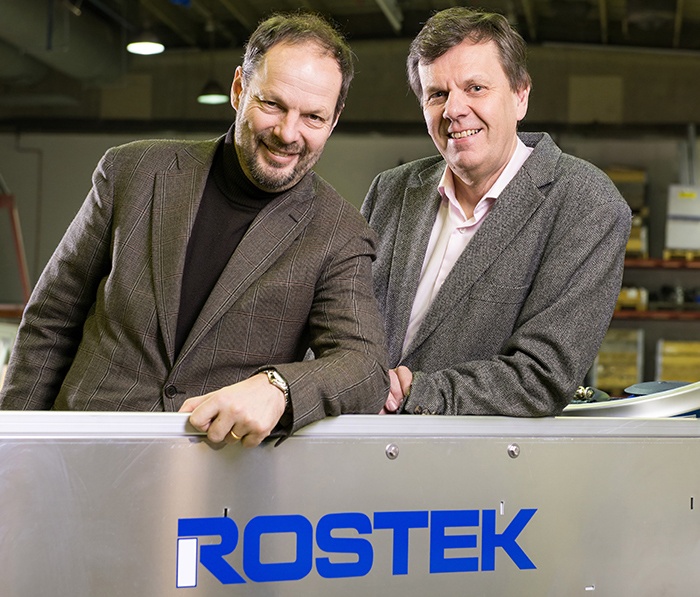 Me and Mikael Anthoni in 2013
HARRI ROSCHIER BECOMES CEO IN 2016
At the beginning of 2016 Harri took over the post of CEO. He knows Rostek well, having been a Shareholder, Board Member and Chairman for 20 years, and it was easy for him to get started. Of course, a small company like Rostek is totally different from the other organisations with hundreds of people he had been managing. Even so, he had never worked with Engineers before, and even less so with production and factory workers.
Rostek is an Engineering Company and Harri is, in fact, our first CEO without an engineering education. Anyway, he is doing fine - trust me!
As our financial situation improved, Harri started to speed up various improvements at Rostek, including a major renovation in the office and the factory. In addition, various other improvements have been made, including our IT-systems, and in relation to marketing matters with the appointment of our first Marketing Manager, Niko Siltanen.
We even set up a one-man satellite-office in Shanghai to improve our business relations in Mainland China.
With Rostek-UK also doing much better, our Group is now very different from two years ago.
LEAN, KIMMO AND ISO9001
Kimmo Paananen joined us a couple of years ago as COO. He is a "Lean-Guru" and has a very interesting background that includes the Nokia mobile phone factory. He and Harri have made quite remarkable changes to our processes and systems during the last 2 years.
Of course, producing special tailor-made machines in extremely small quantities is somewhat different to mass-producing mobile phones, but we have indeed learned a lot from Kimmo.
Early 2017 we achieved the EN 1090 Certificate for welding and in December 2017 we achieved the ISO 9001 Certificate "with excellent notes" after having worked towards this for only a few months. It was hard work but the result was worth it!
NEW COMPANIES ARE FORMED AND OTHERS ARE GONE
As I have explained, many Companies in the BMU industry have gone out of business. Lalesse and Kranenburg in the Netherlands being two of them.
The famous lift company Kone from Finland took over Lalesse´s maintenance business. A somewhat strange strategic move?
Possibly the oldest company in the access business was Wahlefeld in Germany, who unfortunately went bankrupt a few months before their 100-year anniversary in mid-90s. They restarted one year later.
AESA went out of business some years ago and is now continuing under new ownership and the name 'Atech Barcelona'.
GIND was formed soon after the CoxGomyl arrangement by former Gomyl staff. Now, Sky Climber has a roof car factory in Spain with former GIND employees!
Access Platforms restarted under the name Access IT and then they changed their name again to XSPlatforms. They are quite big now.
Geda has moved from Germany to Turkey and has a partnership with Major. Zarges ended their BMU business in Germany a long time ago.
Koltek is still in business with four to five people after having changed owners three times.
In my view, bad profitability and all of the failures within the BMU industry are not wholly a result of bad management. The construction industry is difficult, and with bigger and more complex projects come bigger risks and potentially greater losses. In addition, the big main contractors have become more demanding, to put it politely.
SECOND BIG MERGER: COXGOMYL-MANNTECH-ALIMAK/HEK
The Owners of CoxGomyl formed a new company called Façade Access Holdings in 2016, and this company bought Manntech. Whilst there had been rumours about Erich Dinkler & Co. of Manntech wanting to retire, this move was still a big surprise to everyone.
This arrangement meant that Façade Access Holdings became the superior no. 1 company on the access market. CoxGomyl´s turnover was in the range of 60 m€ and Manntech 25-30 m€ at that time.
Manntech and CoxGomyl work separately in branding, sales and production but have coordinated some components and solutions for cost-saving. They keep comparing this arrangement with the Volkswagen Group, having Audi, Skoda, Porsche, etc…
The next big move was when Swedish Alimak-HEK bought-out the whole of Façade Access Holdings, meaning both CoxGomyl and Manntech were under their ownership together with Avanti in Denmark, a producer of service lifts and similar products for the Wind Industry.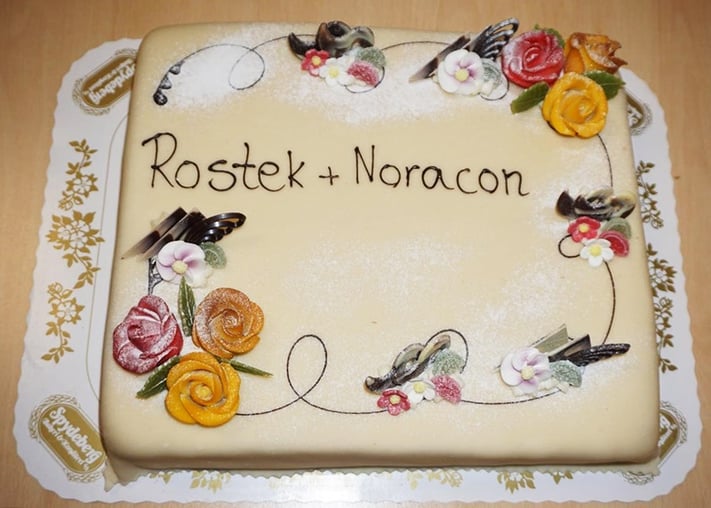 Never celebrate anything without a cake!
NEXT BIG STEP: ROSTEK BUYS NORACON
In 2017 Noracon AS of Norway contacted Rostek with a simple question: "Do you want to buy Noracon?". Our initial and quick answer was YES as we had already been thinking about that possibility. We knew that our "dear Competitor" Noracon is a profitable, well-managed Company that has been working very successfully on the access systems market for almost 20 years and we had a lot of respect for them.
In January 2018 the deal was complete: Rostek became the sole owner of Noracon AS. We had discovered that Noracon was doing very well with products and systems that may be considered a bit simpler than those of Rostek's … maybe Noracon is less "adventurous" than Rostek but they are very good at doing what they do!
We also discovered that Rostek has many products and systems that Noracon is missing and Noracon has many things that Rostek needs. We also share similar views on future innovations and products and we now hope that many development projects that had previously not moved forward, will now progress further with additional resources from both parties.
We believe there is a clear synergy in products and markets, and we are confident that this merger will improve the market position of both companies.
One of the "secrets" of Noracon is that the three owners, Helge Hvam, Ørnulv Holte and Ole Petter Strømland are extremely experienced and highly qualified experts in this business, and the small workforce has remained almost the same for many years with only a small increase in fixed costs, resulting in a very good financial position.
We are very happy that Helge, Ørnulv and Ole Petter wanted to become minority shareholders in the new Rostek Group.
We will run both companies separately as before, keeping products, brands and distribution channels the same, and we believe we can help each other to become even better. Together we can bring new products, innovations and applications to the market.
Today, the Rostek Group with Rostek Oy, Rostek-UK Ltd and Noracon AS, is a superb market leader in Europe and has a very strong position in South-East Asia, the Middle East and North America. We are also growing in China, Africa and South America.
This 'Big Move' is very important to me on both a business and personal level. We have finally merged the No. 1 and No 2. Aluminium Access Companies and if those three old Pioneers Ture Hedström, Terje Myrseth-Olsen and my father Paul Roschier are once again sitting on that nice cloud, thinking about even better Stairways to Heaven, I hope they can agree that THIS WAS A GOOD MOVE.
As many of you can guess, I have been planning some kind of retirement and this 'Big Move' will no doubt result in a change in plan, but hopefully the Noracon-deal will bring me, and everyone else at Rostek and Noracon, great fun and exciting challenges to look forward to in the future.