Rostek is growing well and exciting things are happening. We decided it is about time to document some kind of summary of how the Access Business has developed over recent decades.
This has turned into a long story of Rostek, and my life! Is this my personal CV? Hopefully it's not too boring…
If you are looking for part two, it is here
LITTLE BUSINESSES AND FIRST REAL JOB WITH DIPLOMATS
After several small business activities, starting at the age of 17 delivering flowers during Christmas to an Alpine Skiing School and a small Partnership with a sailing buddy, I gained a part-time "real" job, working for the Ministry of Foreign Affairs at the Congress for Security and Co-Operation in Europe (CSCE).
For three years I worked in various modest positions. During my final summer there in 1975, I was working in the Document Printing Division. The work in the printing division (in the cellar without windows) of the Finlandia Congress Hall was organized in three shifts: The shift for the first day was eight hours long, the second was 16 hours and the third 25 hours. This cycle continued for five to six weeks…. We made a lot of money but had very little sleep and no private life during that time.
Sometimes I feel that I am still working on that same three-shift system…
It was a great diplomatic victory for little Finland and our President Kekkonen, getting all the major states from Europe and North America together for the first time since the Second World War. This Final Act was, in a way, the final end to World War II and confirmation of the state borders, but it was also a new step for Human Rights (this issue was especially challenging for the Soviet Union and rest of Eastern Europe).
Many a good party was had, but the most memorable was the cocktail party in the Finlandia Hall lobby after The Signature. My girlfriend Suvi and I were drinking Champagne (and lots of it!) a few meters from US President Gerald Ford, the President of Finland Urho Kekkonen, Prime Minister of the Soviet Union Leonid Brechnev, and General Secretary of the United Nations U Thant. Nevertheless, we needed to leave the party early because my younger brother Harri came to pick us up in our Ford Escort that had our sail-racing boat 505 with its seven metre tall mast on the roof. We rushed off to the European Championships in Switzerland… ("sorry guys, I need to go sailing")
What a sight, us jumping into the car in our fancy clothes, champagne glasses in hand and Security Control giving way for this very special transport on the closed roads of Helsinki City!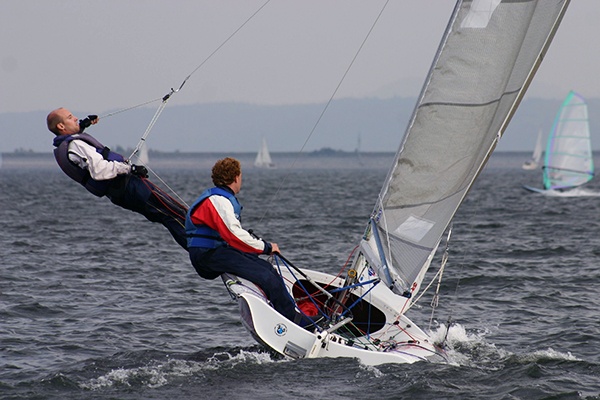 "Sorry guys, I need to go sailing!"
WINCHES AND HOISTS
In 1976 I graduated from the Helsinki University of Technology with a Master of Science in Mechanical Engineering and Hydraulics. My Thesis was about a hydraulic winch for a tower crane for Betox, a Company for which my father Paul was Managing Director. Betox also was the importer of Liebherr tower cranes from Germany and sold Tirfor winches from Tractel.
Interestingly, my Father had done a similar thing 25 years earlier: In his time it was a mechanical, friction-clutch winch for concrete plants. So now we had two Winch-Engineers in the family!
At that time, Alimak of Sweden almost had the monopoly in temporary elevators and other lifting equipment for the construction industry.
TURE HEDSTRÖM INVENTS ALUMINIUM MONORAILS IN 1980 AND MARKUS GOES OFF ROAD
A few years later I heard from my father Paul that his Swedish friend and business associate Ture Hedström had invented a climbing trolley, running along an aluminium track system, and his company Tumac had started to produce Stair Lifts for disabled people, based on that extruded aluminium profile. They were also applying this product, the so-called monorail for suspended access platforms. The trolley, 'Liftcat', was something totally new that nobody had seen before.
This was not really interesting to me. I enjoyed my job as Sales Manager for hydraulics at Mannesmann Rexroth and had the great pleasure of working with numerous companies producing special mobile machines and off-road vehicles in Finland. One of the most fascinating projects was a four-wheel drive, fully hydraulic small tractor called 'Wille'. I think the machine is still among the market leaders in Northern Europe.
Another project was a small tracked vehicle called 'Frosty'; an off-road vehicle that could go anywhere and undertake various tasks from ski track grooming to transporting power-line equipment in the Scandinavian forests.
STARTING ROSTEK IN 1982-84
I was doing well at Rexroth and enjoyed my work with those spectacular machines in the forest.
Frosty Systems offered me a job as Sales Manager for the 'Frosty' machine and I started working on a consultancy basis for the Company, mainly in sales but also in R&D as it turned out that the product was not at all as good as advertised.
One year later my father asked me if we could do business together. At the age of 58 and after 30 years at Betox, he also wanted his own Company.
Together we then formed Rostek OY in 1983 and Paul agreed with Liebherr that Rostek would become their new Distributor for their tower cranes in Finland.
In addition to tower cranes, we had another focus. Whereas the lifting of material seemed to be well organized within the construction industry, lifting people had been somewhat neglected and seemed to offer new business opportunities.
As a father & son team, we seemed to have an ideal educational and business background for this kind of new business.
We became Distributors for some very innovative hydraulic access platforms from Aerial Access based in Newcastle in the UK and also from the much bigger Genie Industries in Seattle, USA. Soon we added the famous Latchways fall protection systems to our product range.
The small and unknown Rostek then surprised everybody in 1984 by in being distributors for those products that were in high demand shortly afterwards.
My father was Chairman of the Board for the first 12 years, and I continued in the position of CEO for 28 years.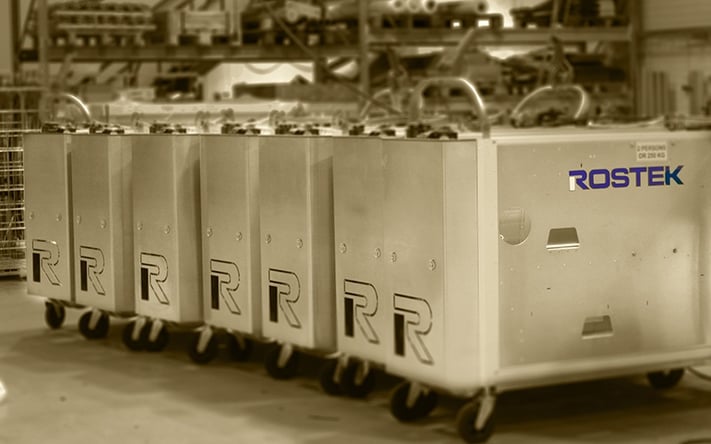 Set of Rostek BMU cradles (not he flimsy temporary ones anymore)
FIRST OWN PRODUCT: TEMPORARY SUSPENDED PLATFORM IN 1986-87
In 1986 we received an enquiry for Temporary Suspended Platforms (TSP) from Lemminkäinen, Finland's largest façade painting and repair company. They saw a big gap in the market for facade work and wanted a new kind of suspended platform due to differing market requirements and Standards between Finland and Central Europe.
We designed a very light, smart TSP (the word was then unknown) in steel and purchased hoists from Power Climber. However, Lemminkäinen regarded our product "too flimsy" and bought five to ten TSPs from our competitors.
For the next year we made a new version of the TSP in aluminium, based on special profiles designed by Rostek. The Extrusion Plant was a part of a multi-business company producing rubber boots, power cables, toilet paper and an innovative new product: car phones. It was called Nokia….
The platform was the first to have Rostek's own profile - to date, we have designed more than 50 profiles.
We eventually received an order from Lemminkäinen, but quantities were not exactly what we had in mind. Luckily, many other companies also chose the Temporary Suspended Platforms from Rostek.
Our great partnership with Power Climber started well.
ROSTEK´S BUSINESS CHANGES: KOLTEK
In 1987, Paul delivered the news that, along with Terje Myrseth-Olsen, his old friend Ture Hedström had started a new company, 'Koltek', in Norway. They wanted Rostek to become their distributor in Finland.
Whilst my father was fascinated, I thought it was a really crazy idea. Selling cheap aluminium ladders! I preferred selling fancier products such as Genie and Aerial Access, Latchways and the Rostek TSPs.
We had recently lost the Liebherr agency - it had proven to be one number too big for our small company - and we needed some new business. We soon agreed that Rostek would concentrate on two businesses: Permanently Installed Access Systems and Temporary/Mobile Access Systems.
My father was in charge of the permanent systems (later called Building Maintenance Units or BMUs) and he achieved excellent results. I concentrated on the temporary systems.
GREAT BOOM FOR ACCESS PLATFORMS IN 1984-1990
Although life was not always easy, Rostek was doing relatively well and the company was growing.
Our hydraulic access platforms from the UK and USA were doing fine in competition against new products from Finland including Bronto, Dino, Vilske and Dexter which were good products made by modern companies.
Suddenly 'little' Finland had become the market leader for the production of modern trailer-mounted hydraulic access platforms.
In 1990 the market for access platforms in Finland was 1,000 machines and it was the highest per capita value in the world. We sold 100 machines which meant our market share was 10%. Rental companies were growing very quickly and the market for these boom-machines was, indeed, booming.
A new Finnish company, Scanclimber, started to make rack-and-pinion access platforms to seriously compete against Swedish firms Alimak and Malmqvist, and Dutch firm HEK and a few others. They had a modern Finnish design with low production costs in Poland.
Around 1986 my wife Suvi began working for Rostek as a part-time bookkeeper. She took care of our 3 children, and in between she took care of the bookkeeping, sending and paying invoices, payroll etc. Actually, Suvi was more a part-time Finance Manager than bookkeeper.
The [bad] joke was that the Roschier Family Enterprise was ready: Father, Son and the Holy Ghost.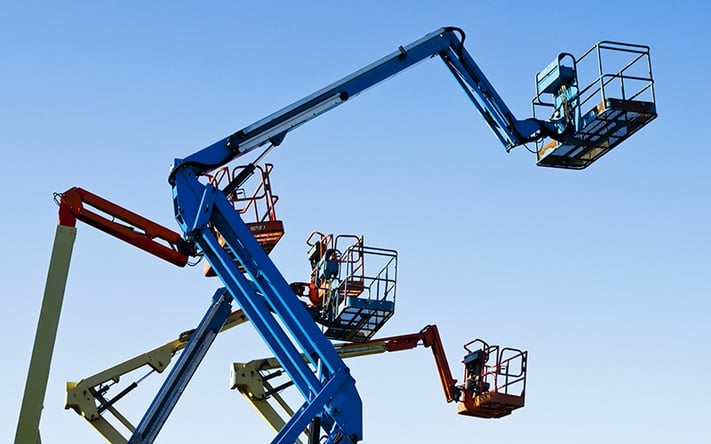 Hydraulic Access Platforms, which Rostek used to sell
WORST RESESSION IN WESTERN EUROPE: YEARS 1990-1993
In 1988-89 the Soviet Union got into financial trouble and eventually the whole country collapsed. They accounted for more than 15% of Finland´s export. First they stopped paying and then they stopped ordering! At the same time, Western Europe was suffering hard times and all this made a terrible equation for the Finnish economy.
To make things worse, The Bank Clerk´s Union began a nation-wide strike and all banks closed for several weeks. On that Tuesday morning, the whole of Finland stopped! Money did not move, nothing moved!
The negative chain-reaction was terrible: Rental companies stopped buying machines, the construction industry rapidly slowed down, the unemployment rate went up to 21% and most of us knew of a family member or close friend without a job.
Haka, the biggest Construction Company in Finland went bankrupt and left a number of invoices from Rostek unpaid. The same thing happened with the biggest shipyard, Wärtsilä.
Monivuokraus, the second-largest Rental Company in Finland was bankrupted by an "Evil Bank" and the owner received a jail sentence when he tried to save his family enterprise. The local Police Chief who helped him, also went to prison… A couple of years later, the "Evil Bank" was no longer in business.
Lemminkäinen decided to end their facade business and started selling all of their 200 TSPs for ridiculously low prices. This meant that sales of new TSPs completely stopped for 10 years! Today, Lemminkäinen has merged with YIT and they are now the biggest construction company in Finland.
WE JUST SURVIVED! 92 MAST CLIMBERS FOR SHIPYARD!
In 1992, annual sales of access platforms reduced from 1,000 to six machines in Finland. We sold two and became market leaders with a 33% market share. This was little comfort when the market had decreased by 99.4%. We almost had no clients anymore.
We dramatically reduced staff numbers and we, like everybody else, were almost bankrupt.
Luckily a new Shipyard, Masa-Yards, which had been formed from the remains of Wärtsilä, was involved in a big project with LNG (Liquified Natural Gas) tankers and they required special access platforms to enable welding of their globe-shaped tanks.
We made a smart design and received an order for 92 rack-and-pinion operated mast climbers with curved masts. Our turnover jumped from almost zero to remarkable figures. The Company was saved!
ROSTEK SYSTEM CREATED IN 1992
For obvious reasons, our business with Koltek decreased rapidly. Koltek got into financial trouble and a few years later they went bankrupt; first in the UK and then in Norway.
We made the brave decision to create our own permanently installed product range, the 'Rostek System'. Paul and I used our properties as security to the Bank (which was struggling and later was forced to merge with two other Banks…) and took big loans to invest in these new products.
We paid great attention not to copy Koltek and we were especially careful not to interfere with their Patents.
Whilst the old Tumac monorail weighed almost 10 kg/m, and Koltek´s first tracks were around 8 kg/m, our new RS133 (which we then patented) weighed less than 6 kg/m. This was a big saving for a product that is bought "by the kilo" from the Extrusion Plant. Today, our lightest monorail is less than 4 kg/m.
If Ture, Terje and Paul are now sitting on a nice soft cloud, planning new Stairways to Heaven, they will probably smile when reading this: We had no other option for survival.
| | |
| --- | --- |
| | |
| Tumac monorail | Rostek current range of track profiles |
FIRST PROJECT: "FINNISH BBC"
The new Headquarters for the Finnish radio/TV company YLE, called 'The Big Factory' was our first major job involving the Rostek System. We delivered monorails, ladders and gantries and even a very special suspended platform. The Main Contractor saved a fortune in scaffolding during the construction period as they rented seven TSP-cradles from us for almost a year.
The building was finished 5 weeks ahead of schedule. A new economical and efficient method of constructing public buildings had been invented by Rostek.
EXPORT STARTS IN 1993
In 1993, we found Klaus Bornack and his Company, Safepoint, and Germany became our first export market. Was beginning our export journey in the biggest and most difficult and bureaucratic market in Europe a good or a bad thing? We made many mistakes but we also learned a lot. Safepoint is still our distributor and Klaus´ Daughters are gradually taking over the business from him.
We then found MHE-Demag in South-East Asia, E.W.Cox in Hong Kong and many other companies with the friendly help of companies such as Power Climber.
Rostek had, in a few years, developed from being an importer of foreign machines to a factory producing machines and systems for world-wide export.
CREDIT LOSSES AND EXCHANGE RATES
Unfortunately we lost vast amounts of money in the export business. Maybe we were better Engineers than Businessmen?
A small Dutch company, All Risks, became our distributors and then the Owners formed another company called Access Platforms, producing quite innovative roof cars. In fact, we planned a larger world-wide partnership with them. Unfortunately that ended very badly a few years later as their three-wheeled Roof Cars were disqualified by the Dutch Liftinstituut, and very soon Access Platforms went out of business, leaving remarkable amounts of money unpaid to Rostek.
Our UK-Dealer First Safety also went out of business.
On top of all of this, the Finnish currency Mark was devalued twice, losing some 25% of its value. We had taken out cheap foreign loans (having been strongly encouraged by our Bank) and when those loans became 25% bigger, you can guess the rest!
VENTURE CAPITALIST BECOMES PART OWNER IN 1996 & HARD WORKING SUVI
We had survived the Big Recession with a very small margin and although business was improving, we were still short of money. The credit and currency losses made the situation even worse.
We were again forced to reduce staff numbers. Suvi was working part-time from home. A very good full-time Assistant, Kylli and a part-time Secretary, Susanna, worked in the Rostek office and we had to do something about this. Susanna got married and moved to the UK but then we also needed to let Kylli go.
This was especially hard for Suvi, who then was "forced" to take over their roles and she moved from 30 hours per week in the home office to 50 hours per week in the Rostek office, plus another 20-30 hours in the home office… Not easy for a "House Wife" with 3 small kids!
My brother Harri, who was already an active Board Member at that time said that Suvi would probably not last more than six months under the work load, but Suvi fought hard and when she retired 19 years later, she had indeed done her share for our Family Enterprise. The Holy Ghost.
We were approached by a Venture Capitalist Innoventure Capital Fund and soon they became a remarkable Shareholder at Rostek. Their investment helped us getting back to normal life and to invest in growth and exports.
Only a few years later our financial situation had improved so much that we were able to buy Innoventure out, and Rostek was once again a family-owned Company.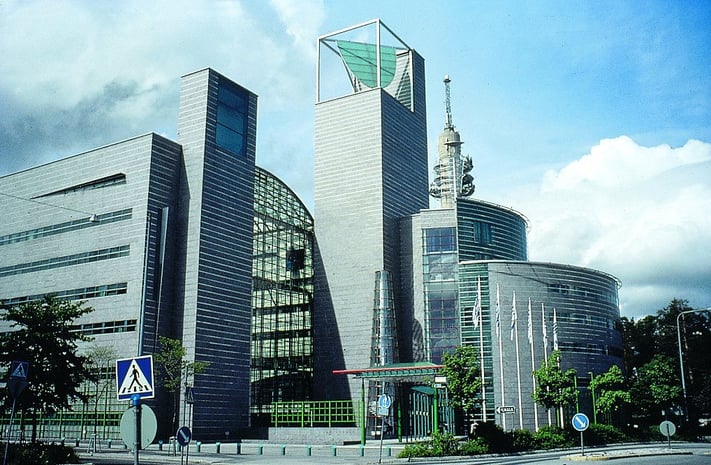 First real project: Headquarters of Finnish radio/TV company YLE, called The Big Factory (Iso Paja in Finnish)
FIRST GENERATION CHANGE: PAUL ROSCHIER RETIRES
Having been on sick-leave for almost a year following a stroke, my father Paul returned to work in 1995, and in 1996, at the age of 70 he retired. Harri and our sister Lena Laurila took over the shares of our parents and now Rostek was fully in the hands of the younger generation.
Even though my father and I never made big money with Rostek and life was often difficult, I think Paul was quite pleased to leave the Company behind in a reasonably good shape. Our ideas and products had become popular and successful and the Company had a reasonably promising future.
Harri was the CEO of a very big Media Company Talentum and the Chairman at Rostek. Step by step he became more active with Rostek. Later, he became Co-Owner and Chairman of a very successful Digital Marketing Company called Avaus (meaning "Opening" in English).
SPIN-OFF ROSTEK-TEKNIKKA FOUNDED IN 1996, NORACON FOUNDED IN NORWAY 1998
In spite of the cash injection from Innoventure and the gradually improving business environment, Rostek was still not profitable.
We then made the big decision to stop all import activities. We encouraged some employees to leave Rostek and start a new Company to take over the agencies for Latchways, Genie and Aerial Access. Monica and Risto Liiri accepted the challenge and wanted the new Company's name to refer to the famous Rostek. The new company was named Rostek-Tekniikka Oy.
Some of our Installers and Servicemen were also encouraged to start their own Company, Simeri, to work as Subcontractor for both Rostek and Rostek-Tekniikka. The plan worked out well.
Another interesting spin-off, but on less friendly terms, happened in Norway. As Koltek was still struggling, five people from Koltek left and started 'Noracon'. Noracon quickly became a very good and profitable company and one of our main competitors. Competition between Rostek and Noracon was never very hard and in fact Noracon did little export work. We respected each other for being the "two best monorail companies".
TWO PETERS, JAN AND JOCHEN
In around 1996, Peter Nyström joined us to become Sales Manager for BMU systems in Finland. Gradually he took on more and more export countries. Many of us did not want to start carrying out business in Sweden, as to us it was "Koltek-Land", but Peter did not believe that (he mostly does not believe what the Boss says😊) and very soon Rostek became big in Sweden.
Today we are clearly the best and biggest Access Company in Sweden and the word Rostek has almost become a synonym for permanently installed access systems.
Now, "Peter the Pirate" (this refers to his pony-tail) is responsible for more than half of our sales, mainly in Northern Europe but also some other areas.
Jan Törrönen has been working as Project Engineer for 20 years and he forms an excellent team with Peter the Pirate.
Peter Ray started as Subcontractor to Rostek, then he became Foreman in the factory. Unfortunately, he was one of those who lost their jobs in 1993-94 and he found his way to Koltek in Norway but returned to Rostek a few years later, after having gained much experience and design skills.
Today, Peter Ray is in charge of our sales to Denmark and some other European countries plus South America and Africa. He is a "hybrid" as he also is undertaking the design for his jobs.
Our Swiss Engineer Jochen Neumayer soon joined us to work on the German projects together with me. After 17 years at Rostek he has learned almost everything - except Finnish! We need to buy him The Famous Book For Foreigners: How To Learn Finnish In 40 Years Without A Teacher.