If someone would have asked me a few months ago, if I know what a BMU (Building Maintenance Unit) or a monorail is, I would have said "no". However, now I can explain the basics when it comes to the facade and glass roof access systems.

Access systems are used for dangerous working places at height, for window cleaning, maintenance and repair of modern facades and glass roofs/skylights. Regular maintenance is necessary to make sure windows and cladding panels, as well as technical equipment, remain good looking and technically intact.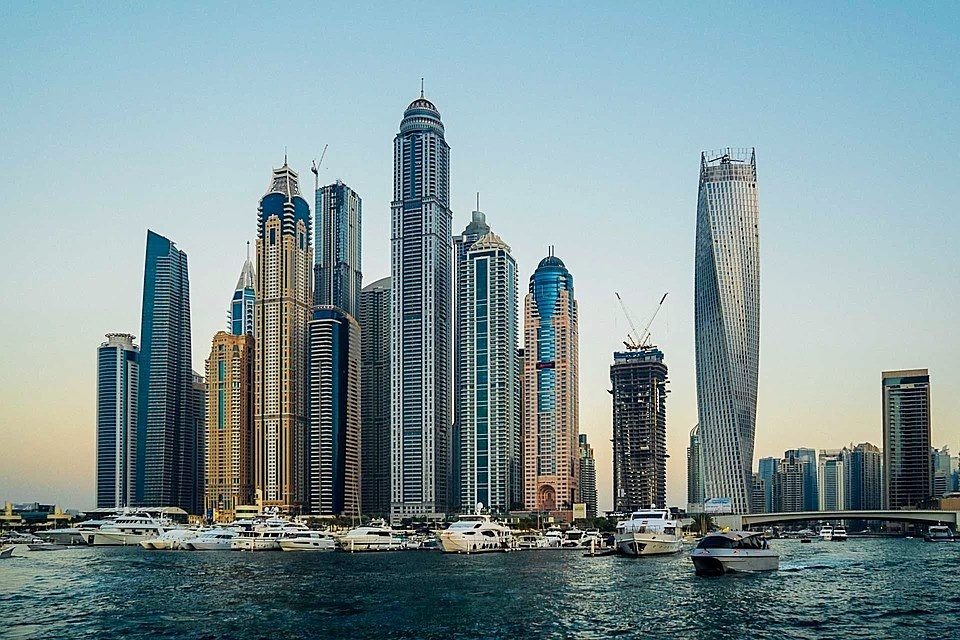 The access systems are divided into two categories: Temporary Suspended Platform systems (TSP) and Building Maintenance Unit systems (BMU).
TSPs are typical rental machines that are brought to a construction site and then taken away after the job is done, whereas BMUs are designed specifically for one building/project and permanently installed for this purpose.
There are three categories of BMUs: Systems with roof-mounted hoists, platform-mounted hoist systems, and gantries & ladders.
The roof-mounted hoist system
This is the biggest access system of them all. There is the big roof car (also referred to as the BMU machine), a crane-like machine, mostly with a drum winch. The roof car can be stationary or traversing along steel tracks depending on the project. A suspended platform suspended from the jib arm is a light-weight cradle that is moved up, down and sideways with the roof car machinery.
The main use for the roof car system is with the tallest buildings in the world. The biggest problems are that the system is very heavy and complex and requires lots of roof space and it is hard to hide it into the roof structures.

A typical traveling roof car with a telescopic jib to reach even most complex facades
The platform-mounted hoist system
A smaller version for facade access is the platform-mounted hoist system. As the name describes the hoists and therefore the whole power is in the platform. This platform is usually called the BMU-cradle. The cradle always needs a suspension point, a place where it can be attached. The simplest solution is a davit system, stationary crane-like devices that support the cradle. The davits can be manually moved to a new position when the BMU-cradle is not attached.
To have a traversing point of suspension for the BMU-cradle, there are two different alternatives: The first option is a light roof trolley on twin aluminium tracks: a similar solution to the big roof cars but much simpler, smaller and 10 times lighter. The light roof trolley is a flat machine that can easily be parked out of sight.
The second solution is a monorail system: A single aluminium rail mounted in front of the facade or under a skylight, ceiling or soffit of a building. The monorail system is a very versatile option as it can travel even vertically (when a friction based trolley such as Roslift is used) making it a unique solution for most complex parts of a building. The downside of a platform mounted hoist system is that the maximum lifting height is approx. 170 meters, as all the weight of wires and cables is in the platform. In the tallest buildings, monorails are often used at podium areas or in internal applications.
| | | |
| --- | --- | --- |
| | | |
| Davit with a BMU-cradle | Roof Trolley (plus owl…) | BMU-cradle on climbing monorail |
Ladders and gantries
When there is need to access the internal or external parts of a glass roof/skylight, a traveling gantry or ladder is the solution. By definition, a gantry is a workplace with a continuous footway or treads and inclined to the horizontal at an angle of 65° or less and a ladder is a workplace with rungs or treads and inclined to the horizontal at an angle of more than 65°. To put it in simple terms, you can walk on a gantry and you have to climb a ladder. To find more information about gantries and ladder read the blog on the different types of maintenance ladders or maintenance gantries
| | |
| --- | --- |
| | |
| Box ladder at an air traffic control tower | Gantry under a glass roof |
Are you interested to discuss which of the solutions is the best one for you? Subscribe to this blog and wait for more detailed descriptions of each of the solutions or contact us and tell what your need is, we will provide the best possible solution for you. Also, download our company brochure, from the brochure you will find more information about the different access systems.