Around the world more and more different looking buildings are being built. Some of the buildings stand out as tallest in the cities and some because they are just … different. The building can be shaped like a hot dog, guitar or even a dragon. This is called Novelty Architecture. It is a type of architecture in which buildings and other structures are given unusual shapes for purposes such as advertising or to copy other famous buildings without any intention of being authentic. These buildings stand out from the surroundings and some of them are even touristic attractions. The following 10 buildings are divided into three categories:
Buildings shaped like what they sell
Buildings shaped like everyday items
Just something else...
As the title reads: "shaped like objects", these examples are only the weirdly shaped buildings. On top of these famous examples of Novelty architecture are "Luxor Las Vegas", which is like the pyramid and "Statue of Liberty", which itself is a copy and there are multiple copies of the most famous one on the Liberty Island.
Buildings shaped like what they sell
1. Coney Island Hot Dog Stand, Bailey, Colorado, USA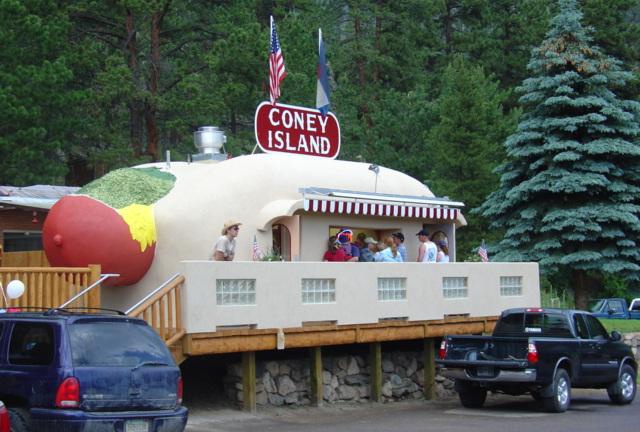 One of the most famous roadside architecture is this 42-feet-long hot dog. It was originally built in 1966 in Denver. In 1970 it was moved to Aspen Park and then eventually to Bailey in 2006. According to Pam Grout (2006) the line for food "extended literally for miles" on the diner's last day in Aspen Park.
2. Twistee Treat Ice cream shop, USA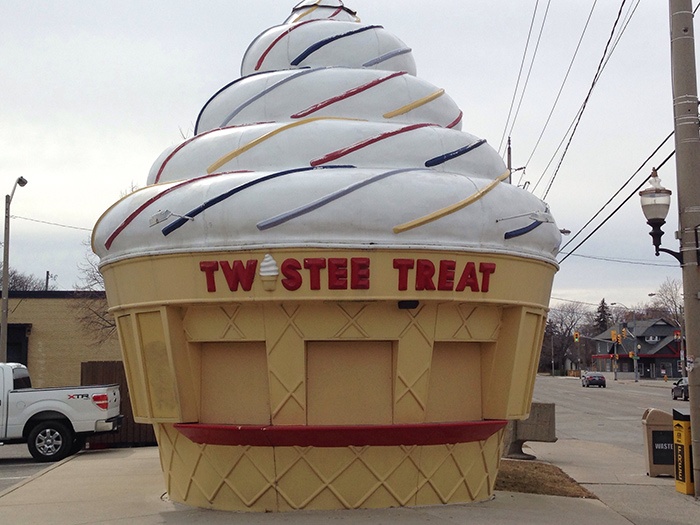 Around 90 fiberglass Twistee Treat buildings were produced from 1983 until 1990, when the original company filed for bankruptcy, and about half the distinctive, cone-shaped buildings remain standing. Designed by Robert G. Skiller, many of the 28 ft tall and 20 ft wide buildings have been painted in a wide variety of colors; others don't even sell ice cream anymore. Due to their unique visual appeal, abandoned Twistee Treat buildings often exist in an odd architectural limbo between being quickly re-opened/re-purposed or (thanks to their light, unit construction) transported someplace where someone's opening a new ice cream shop.
You can even buy the one on the photo for yourself for $55,000 from http://www.gagnondemolition.com/salvage-sale/buildings/ice-cream-cone-building-for-sale/
3. The Big Pineapple, Bathurst, Eastern Cape, South Africa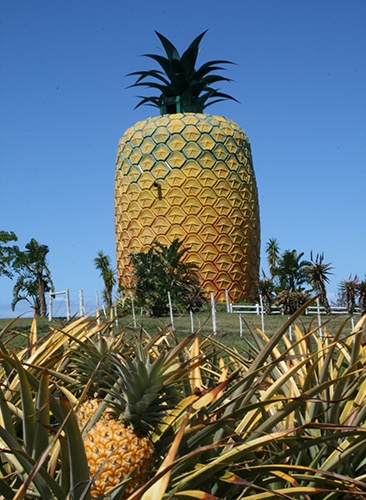 In the village of Bathurst, South Africa is a very ambitious building - the biggest pineapple on Earth. Standing nearly 17 meters tall and located on the Summerhill Estate pineapple plantation. Built between 1990-1992, it is made from steel and concrete with a fiberglass outer skin. As tourists on the deck gaze at the panoramic view of the prickly pineapple crowns being farmed below, they may clutch their purchases of pineapple chutney and fruit-shaped pottery and feel a certain satisfaction that bigger can often be better. This Bathurst pineapple building is actually a copy of the original "Big Pineapple" in Queensland, Australia. The Queensland pineapple building stands only 16 m tall– the Bathurst pineapple building is a slightly enlarged replica of the Queensland pineapple building.
Buildings shaped like everyday items
4. Kansas City Library, Kansas City, Missouri, USA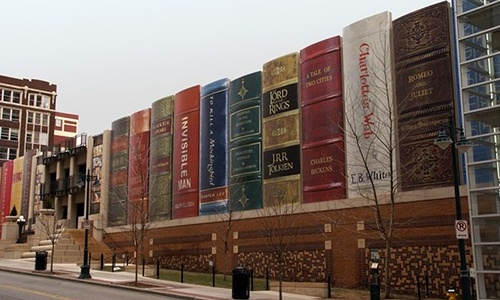 The Kansas City Library contains a unique "Community Bookshelf" wall on its exterior, designed to showcase the spines of 22 books suggested by the citizens of Kansas City. What's great is that residents got to pick what books would get be on the facade of this building. Some of the books that made the cut: Catch-22, Invisible Man, The Lord of the Rings, Silent Spring, and Charlotte's Web.
5. Seminole Hard Rock Hotel and Casino, Florida, USA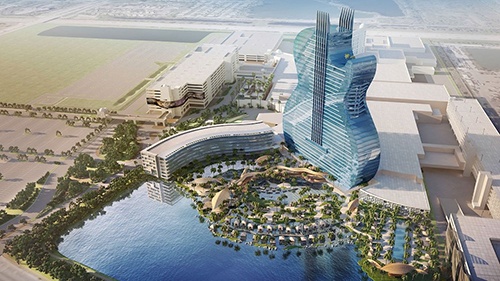 The multi-million dollar expansion and development of the Seminole Hard Rock Hotel and Casino in Florida, due to be completed in 2019, is an adventurous and visually stunning architectural project which pays tribute to Hard Rock's iconic status.
The centerpiece of the 638-room hotel and casino development is a 140 metre tower of blue glass windows, offering guests numerous restaurants, luxurious lounges and spa facilities – all boldly designed in the unique form of two back-to-back guitars, complete with strings! The complex will also boast a 10-acre lagoon pool, an expanded casino, a beach club and water sports. In short, it will be the last word in rock star fantasy living!
By the way, Rostek is part of this project! With our monorail and self powered cradle the guitar strings can be accesses for maintenance.
6. Adidas
Shoe Box

, Barcelona, Spain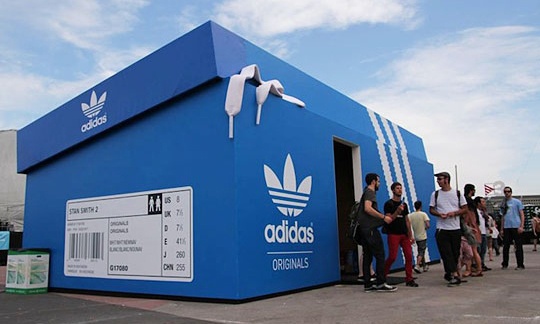 Can you think of a better way to market a pop-up store for shoes than to build one that looks like a gigantic shoebox—that is exactly what German brand Adidas did. The attention-grabbing exterior of the store is a large-scale replica of the famous brand's bright blue shoebox from its "Adidas Originals" range, complete with a sizing label and over-sized laces peeking out from underneath the askew lid.
The Shoebox was created for the Primavera music festival in Barcelona, Spain. The shoebox itself was an attraction and people were waiting in long queues to get in. Not too bad of an idea to promote your store.
Just something else...
7. The Elephant Building (Chang Building), Bangkok, Thailand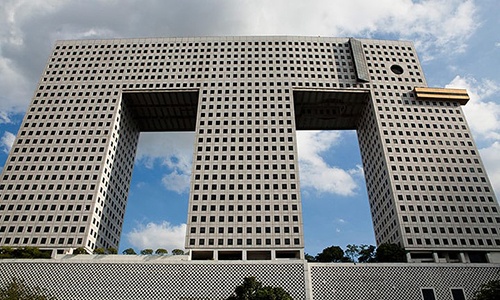 Photograph: Alamy
The Elephant Building in Bangkok is the largest elephant in world, surpassing Lucy the Elephant. The building contains offices and flats and looks like a big grey letter 'E' for 'elephant', only on its side and with a weird bit in the corner that looks like an ear, an eye, and a tusk. The Chang Building in Bangkok is designed to look like an elephant with cartoon eyes and yellow tusks.
While it's ultra-modern lines are a far cry from the traditional realism of Lucy the Elephant's wood-frame and tin-sheathed profile, the Elephant Tower clearly qualifies -- and is internationally recognized -- as an "elephant building," thus making Lucy the world's second largest elephant building. The consensus on this point is so strong that the editors of Wikipedia forced the "world's largest" claim to be removed from Wikipedia's Lucy page.
8. Beijing Airport Terminal 3, Beijing, China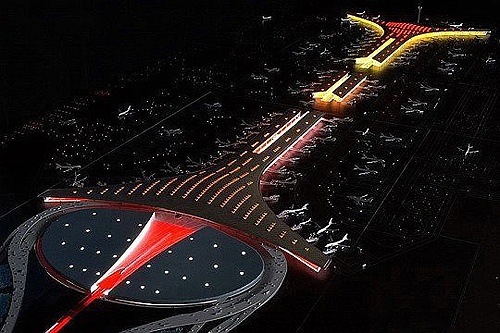 The new airport terminal is supposed to resemble a dragon, complete with triangular windows cut into the ceiling as though they were scales. It was designed by British architect Norman Foster, who also designed Hong Kong's Chep Lap Kok airport.
The impressive terminal's nearly 3-km (2-mile) long concourse, which is divided into three sections and connected by a shuttle train, will boost capacity at the airport to 76 million compared with the 52 million who used the airport last year.
China is busy opening new subway lines and roads as it seeks to revamp and modernize Beijing in preparation for the Games in August.
9. Gate to the East, Suzhou, China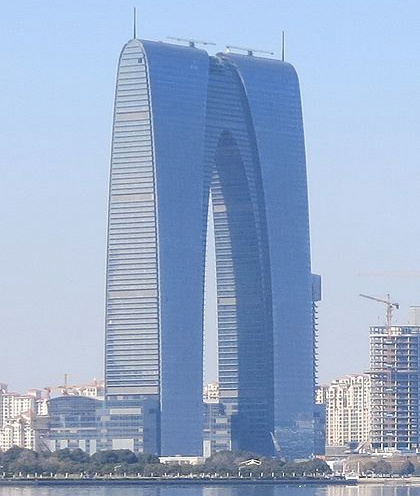 Topping out at just above 300 meters by way of its twin spires, Gate to the East was the first supertall to be constructed in the city of Suzhou. The building is located on the eastern side of the city and adjacent to Lake Jinji, with the design serving as a focal point for a new central business district as well as a gateway looking towards the historic city center.
The spectacular £445m British designed skyscraper has been slammed as a "giant pair of underpants" by Chinese onlookers. The symbolic gateway to the city has received jeers from Chinese and across the world for its resemblance to underpants, particularly as it nears completion. Hundreds of users of Weibo, the Chinese social network wrote: "This should be called the Pants of the East not the Gate of the East."
10. Bitexco Financial Tower, Ho Chi Minh City, Vietnam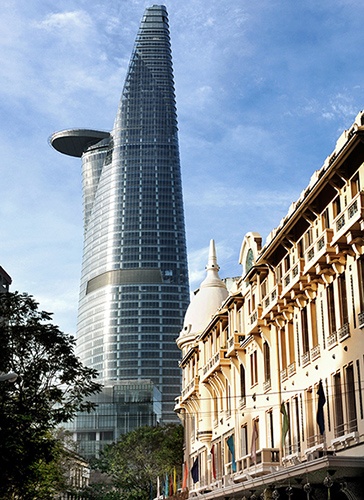 From the outside, Bitexco Tower, the third tallest building in HCMC is impressive enough. The 68-storey, 262-meter skyscraper is reportedly reminiscent of the lotus flower which Vietnamese people normally refer to as the floral emblem. However when you first look at it the helipad reminds you of a CD rack.
On the same level with the lotus flower (or CD), you can enjoy a drink and watch over the whole HCMC city. What you cannot see, is the concealed track below the CD. This track together with a BMU cradle is used to clean and maintain the facade. In addition, during the construction, it was used to lift up the glass panels. Supplied by Rostek and installed by MHE-Demag of Vietnam this is a good example of how these stranger building can be accessed and kept in good condition for their lifetime.
If you want to know how Rostek can help you to gain access to your building, just contact us and together we can find a solution!